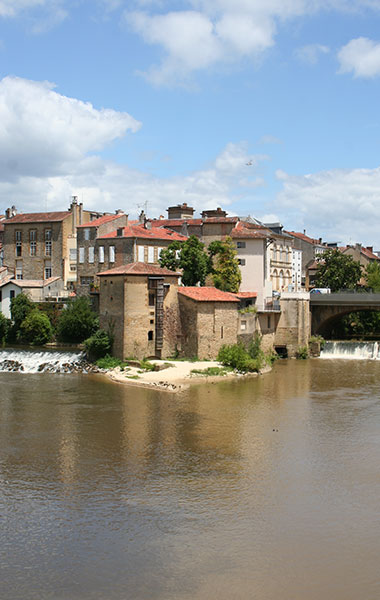 ALIOTEL
Nearby
The staff of Aliotel Hotel-Restaurant
can give you tips on sightseeing and activities not to be
missed around Aire-sur-l'Adour.

Landes Tursan

Aire-sur-l'Adour: The village is known for its rich religious heritage (in particular the Sainte- Quitterie church and its crypt), as well as its natural assets (the Saligues de Prentiarde – a 37-acre nature reserve).


Eugénie-les-Bains (11 km): A famous spa resort town that has kept its authentic rural charm.


Geaune (13 km): A medieval bastide where you'll find the Cave des Vignerons Landais (Landes winemakers' cellar) in the heart of the Tursan vineyards.

Samadet (25 km): This charming village has preserved the ancestral knowledge of earthenware production at the Musée départemental de la Faïence et des Arts de la table (Departmental Museum of Earthenware and Tableware).


Mont de Marsan (25 km): The Prefecture of the Landes is also a city of culture, with its Despiau-Wlérick Museum and sculptures that line its streets.


Saint-Sever (30 km): Renowned for its farm poultry, this medieval town is also worth visiting for its old historic buildings (abbey, convent, private mansions, etc.).
In Gers

Barcelonne-du-Gers (7 km): This village, crossed by the Camino de Santiago route (St James Way), is home to one of the region's largest wash houses, and charming walking paths.


Le Houga (10 km): Don't miss the Ferme aux Cerfs (deer farm) with 500 animals.


Nogaro (20 km): A stop along the GR65 walking route and renowned for its Paul Armagnac racetrack, Nogaro is also proud of its bullring and Saint-Nicolas church.


Toujouse (20 km): Make sure you visit the Notre Dame de l'Assomption church and the Musée du Paysan Gascon (Gascon farmer museum).


Bétous (30 km): Don't miss the Sarthou palm grove and its collection of exotic plants on over 19 acres of land.


Cazaubon – Barbotan-les-Thermes (40 km): Distinctive with its half-timbered houses and archways, the village also features the splendid Lac de l'Uby (Uby Lake), open to the public all year round.


Eauze (40 km): This ancient Gallo-Roman town – once called Elusa – is home to the Musée archéologique (Archaeological Museum)/Le Trésor d'Eauze (the Eauze Treasure). A great place to discover!